Wooly Block Adventure 2019
Visit https://rowbyrowexperience.com/wooly-block-2/ for more info.
On October 29th-31st, you can click HERE to download a FREE copy of our pattern.
*No fancy things to click, no registrations, nothing to add to your cart. Super simple, straight forward, just click on the word HERE in the line above and you'll have your pattern!
Email Newsletter and a Discount!
Love our pattern? We'd be grateful if you would consider signing up for our e-mail newsletter. Message go out every Friday morning at 6:00 a.m. central time to let you know of new product arrivals, specials, and more. As an extra bonus, when you sign up to join our newsletter for the 1st time, you'll automatically receive an email message with a code for a discount for 20% off a regular priced order. Be sure to check your Spam or Promotions box as those types of message often end up there.
Sign up for our email newsletter HERE.
Kits:
We have two kit versions to choose from. One is the pattern and just the wool needed to make an 8 inch x 8 inch finished block. (Order HERE)
The other kit includes the pattern, wool kit, plus all flannel needed to create a 12 inch x 12 inch pillow or wallhanging. (Order HERE)
The pattern for our project can be purchased for $5.00 - or if you are patient - our featured dates to download a free version of the pattern are October 29th-31st.
Order the pattern HERE.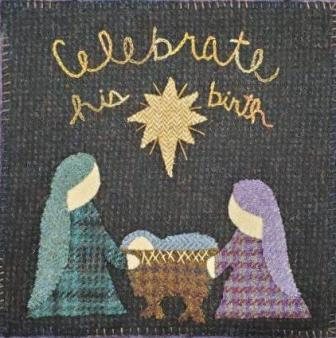 Row by Row Experience 2019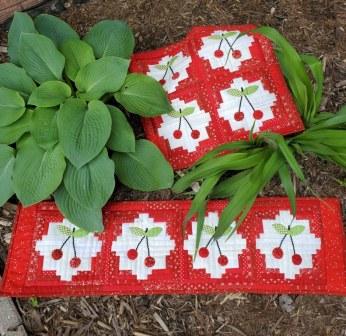 Our row is Cherry Picked!
Log Cabin blocks are accented by yo-yo cherries.
A unique feature of our row is that the blocks can be arranged to create a 9x36 horizontal row, 9x36 vertical row, or 18x18 square.
Stop by and we'll show you how easy it is to make perfect log cabin blocks and yo-yo's everytime!
Free patterns are available in store through September 3rd, 2019.
Kit are available for purchase for $22.00 in our shop through September 3rd.
Don't live near, but would like a kit? You can give us a call to pre-order for shipment after November 1st, per Row by Row rules.
Visit rowbyrowexperience.com for more information about this nationwide shop hop.