FAQ
Welcome to Prairie Point Junction
Our store is open to walk in customers.
Nebraska does not have a mask mandate.
We encourage shoppers to make whatever decision is right for them regarding wearing a mask.
Hand Sanitizer is available and is encouraged upon your arrival.
We appreciate your interest in our shop.
If you have any questions feel free to contact us at 308-784-2010 or prairiepointjunction@yahoo.com.
We're also happy to assist you with placing your order by phone.
Store Hours:
Monday-Friday 10:00 - 5:00
Saturdays 10:00-4:00
*Central Time
Our physical store is closed on Memorial Day, July 4th, Labor Day, Thanksgiving,
Christmas Eve, Christmas Day, New Year's Eve, and New Year's Day,
Are Products in Stock?
Our website is integrated with our shop's inventory. The site updates every 15 minutes, so our stock levels are as accurate as possible. Keep in mind though, that placing an item in your shopping cart or wish list does not reserve the item for you. Our system doesn't change inventory quantities until a customer submits their order.
As we also have a physical store, it is possible that an in-store customer may have already have selected a product, but has not yet checked-out.
Fabric yardage is also especially difficult to accurately calculate. Our website rounds our fabric inventory to the closest whole number. It's therefore possible that sometimes fabric bolts may have a little more, or a little less yardage available than is listed for a variety of reasons. We'll contact you if we are unable to fill any part of your order.
Do You Offer a Catalog?
We are constantly adding new products each week, and our cotton fabrics particularly sell out quickly, so a printed catalog would be out of date by the time it was printed. Our website shows the most current offerings available.
Do You Offer Wholesale Pricing?
Sorry, we only sell our products at the retail level.
Having Difficulty Checking Out?
Our check-out page functions from left to right. top to bottom just like reading a book. You'll want to be sure to enter your information in order in each column for the cart to correctly verify your address and calculate your shipping options.
For example, if you enter your credit card information before your address, it will not be able to calculate your shipping charges.
You'll also see a section that looks like this when checking out. You'll need to either create a password to make an account, or choose No Thanks, I'll create an acccount later.
We're always happy to assist you if you have any other difficulties.
Shipping Options:
Most orders placed before 2:00 Central Time, Monday-Friday will ship the same business day.
Shipping charges for orders placed on our website are based on the weight of items ordered and your destination. Shipping times in transit are estimates based on typical deliveries by that carrier, but should not be considered a guarantee.
Shipping options will display on our shopping cart page once you enter your address information and/or login to your account.
First Class Rate: Available for most orders up to 13 ounces in weight. Delivery time is typically 2-7 business days in transit, but can vary. There is no tracking or insurance included in 1st class rates.
Priority Mail Rate: Available for most orders up to $50.00 in value. Delivery time is typically 2-4 business days in transit, but can vary depending on the postal service in your area.
Tracking and insurance is included.
UPS Rate: Available for most orders over $50.00 in value. Delivery time is typically 2-4 business days in transit. See the UPS chart below for delivery time to your location. Tracking and insurance is included.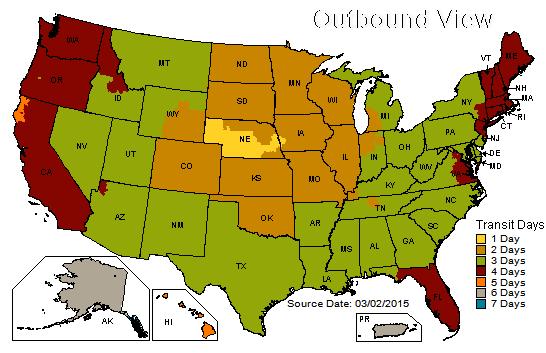 Expediated Shipping Options:
If you need an order shipped via UPS Next-Day or Second Day Air, please contact us for rates. We'll need to know your shipping address as well as exact items ordered to give you a quote.
Shipping to APO Addresses:
We are happy to ship to your APO address. Our cart integrates with the USPS address verification system and requires that your address be entered exactly as follows in order to calculate your shipping rate. Be sure to put your CMR and Box all in one line on Address 1:
Enter Apo as your city/town.
Here's an example:
Returns:
We typically do not accept returns on most items.
We want our customers to be delighted with their experience, though, so please let us know if there are any questions or issues regarding your order.
Due to copyright law, we are unable to accept returns on books or patterns.
Please understand that out of a courtesy to our customers with allergies, we are not able to accept returns of any items that may have a smoke odor or have been in an environment where pets are present.
Privacy:
We make it a priority to guard your privacy. Your information will never be shared or sold to any outside source. Information such as your name, address, phone number or email address is collected only for the purposes of filling your order.
If you would like to receive e-mail newsletters from us, you are welcome to register for our newsletter on the home page of our site. If at any time you wish to un-subscribe, you can find a link at the bottom of each of our e-mail newsletters.
Tracking Cookies may sometimes be used on our website for the sole purpose of allowing our shopping cart to remember the items you are adding to the cart.